B.C. woman grateful for gift of time with her mom
For the Albers family, blood donation is a thank you as well as a gift
June 15, 2021
Nadine Remington was first introduced to the need for blood as an Edmonton high school student in the 1980s, when she and her sister Jennifer joined a group called Red Cross Youth.
"We enjoyed volunteering for a worthy cause, the group activity and the fun camps," says Nadine. "We learned about the need for blood and, although we were too young to donate, we got the chance to be Billy the Blood Drop, the Red Cross mascot, in the annual Klondike Days Parade."
Introduction to blood donation
A few years later, Nadine was reminded of the importance of blood donation.
"A blood donor event was held in our high school gymnasium, and our grade 11 teacher, Ms. Middleton, offered all her students five bonus points in biology if we just tried to become blood donors," recalls Nadine. "Who isn't going to jump at that?"
"From that day forward, I was a regular blood donor."
In fact, Nadine was a regular blood and apheresis plasma donor until she moved to B.C. in the late 1990s. She now lives in Penticton with her husband, Chris, and two children, Declan (12) and Riley (15).
Career choices
After working as a travel agent for nearly 20 years, and when her kids were old enough to attend middle school, Nadine decided to pursue a career as a medical laboratory assistant. She wanted a job that interested her and was portable yet had a lot of distinct aspects to it.
"When I went back to university five or six years ago, I found Ms. Middleton on Facebook. I told her that I was taking cardiology and remembered all the chambers of the heart — thanks to her — 30 years later."
Always in search of variety, Nadine now divides her time between two roles, as a phlebotomist at a lab in Oliver, B.C., and as a donor care associate with Canadian Blood Services, working at a variety of mobile donor events throughout the Central Okanagan.
For her, it's the best of both worlds. Between her two jobs, she sees the people who generously donate blood and the patients who receive it to treat a variety of conditions.
"It's pretty awesome when you can tell someone who is donating blood that you know someone who is receiving blood products to save her life."
Touched by the need for blood
Blood donation has been something with which members of Nadine's family have been involved in a variety of ways. Her sister Jennifer lives in Washington State, where three of her children are donors, while their sister Nancy works as a phlebotomist in Edmonton.
While the girls were growing up, neither of their parents donated blood. Their mom, Joyce, had a fear of needles. And their dad, Ben, had jaundice in the Netherlands when he was 14 and had been told he was unable to donate blood.
None of the family had ever needed blood themselves until Nadine required two units of blood a decade ago to replace blood lost during an operation.
Then the unthinkable happened.
In 2017, Nadine's mom, Joyce, was diagnosed with myelodysplastic syndrome, a rare blood disorder that affects up to 40,000 Canadians. 
Joyce received more than 100 transfusions of blood and platelets in the course of her treatment. The family is eternally grateful to donors for their precious gifts.
"Donors gave her the gift of life," says Nadine. "Thanks to their generosity, my parents were able to celebrate their 50th anniversary, and Mom was able to travel to the U.S. to attend her grandson's high school graduation."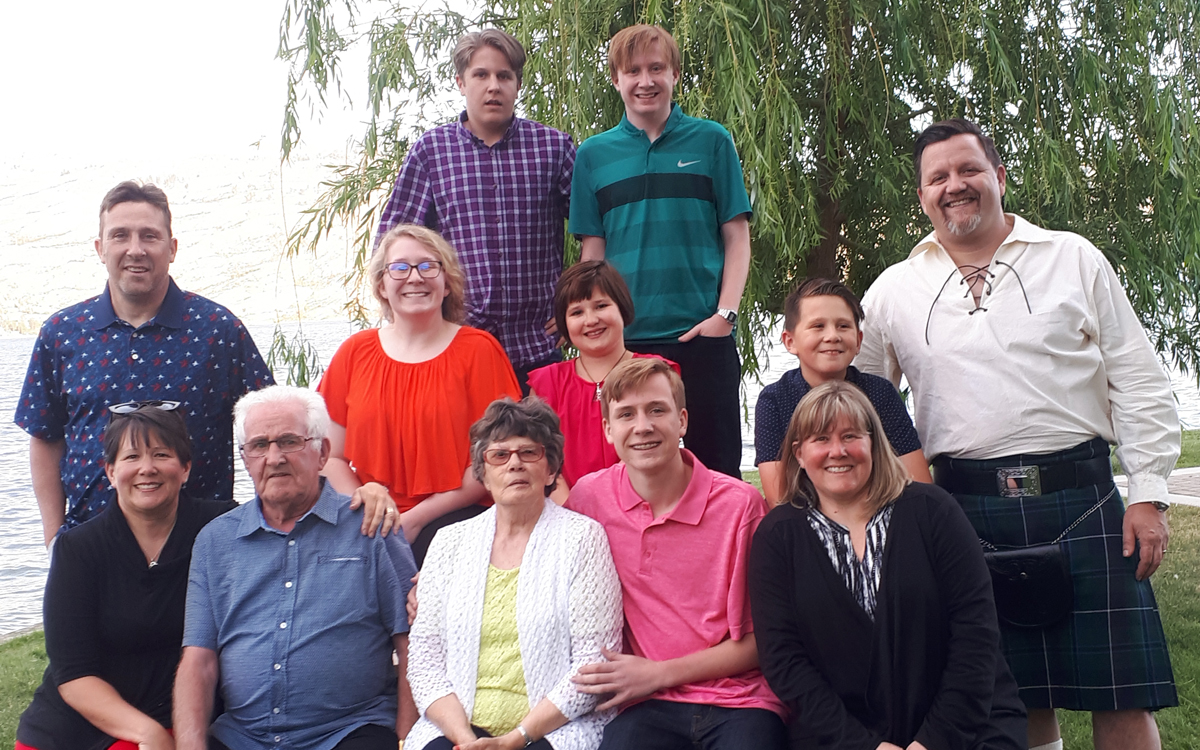 On June 7, 2019, three generations of Nadine Remington's family gathered to celebrate her parents' 50th wedding anniversary. Nadine is seated at the far left of the front row, next to her father Ben Albers. Joyce Albers, Nadine's mother, is on Ben's right.
Unfortunately, soon after the graduation and anniversary celebrations, Joyce's health began to deteriorate.
"It was horrible, coming right at the start of the pandemic," Nadine remembers. "My kids and I drove to Edmonton from B.C. and, since the rules weren't as rigid as they are now, we were able to be there with her in the hospital."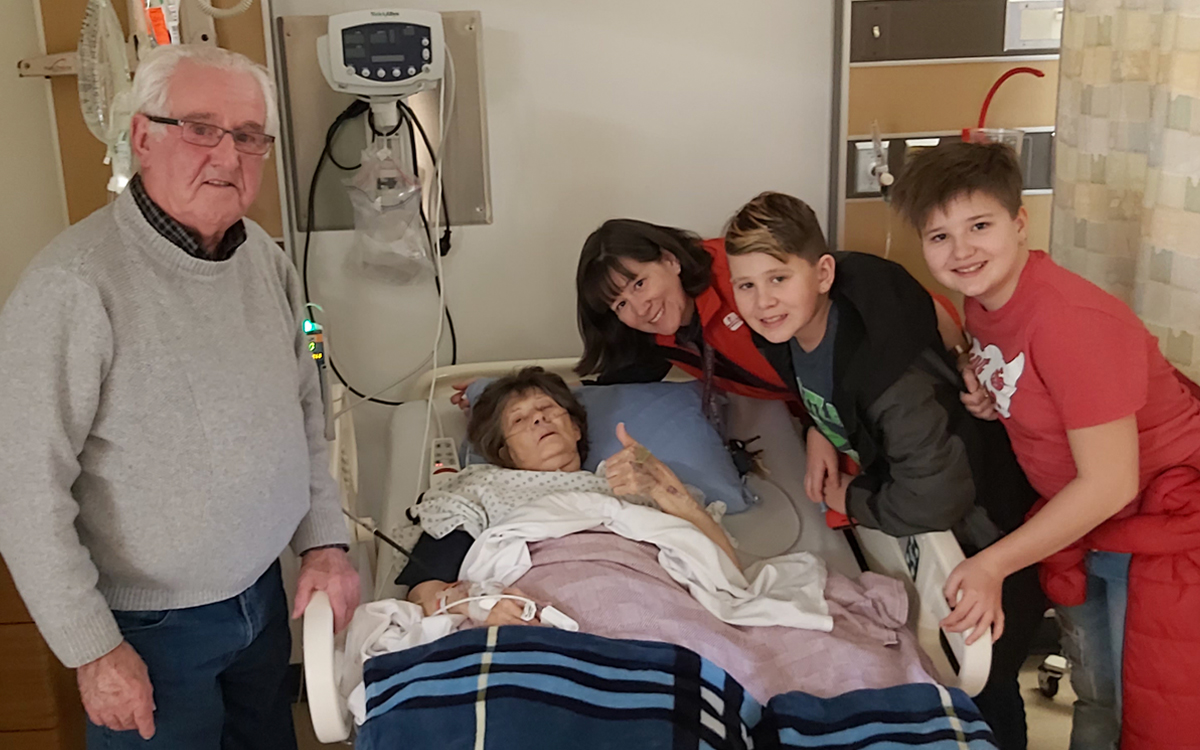 Nadine Remington visited her mother Joyce Albers at the University of Alberta Hospital in March 2020. She went with her father Ben Albers (left) and her two sons Riley (second from right) and Declan (far right.
Joyce Albers passed away on Mar. 28, 2020, leaving her family devastated — but grateful to numerous blood donors for the vital role they played in her treatment.
"Without them, my family would not have gotten those two good years with her," says Nadine.
Dad becomes a donor
Over the years, as Nadine and her sisters became more familiar with blood donation, they learned that their father was, in fact, eligible to donate blood. He never made the time to do it, until last summer.
"My wife's birthday was coming up, and I asked my kids what I could do for their mom," recalls Ben. "They suggested that I could donate blood."
"While she was sick, I made a lot of trips to the hospital, and I saw my wife getting blood from other people to keep her going for as long as she did. So, I decided I would do that in her honour."
In August 2020, on what would have been Joyce's 83rd birthday, Nadine took her dad to the Canadian Blood Services donor centre in Edmonton, where he became a first-time donor at 82 years of age.
When asked how it felt to become a donor at that age, he replies, "It's great. I have type O negative blood, which is always needed. I only wish I had started giving sooner."
Ben adds, "As long as my health allows, I will give blood whenever they need me. If I can help somebody else that's great. Others helped extend my wife's life, so it's wonderful to give back."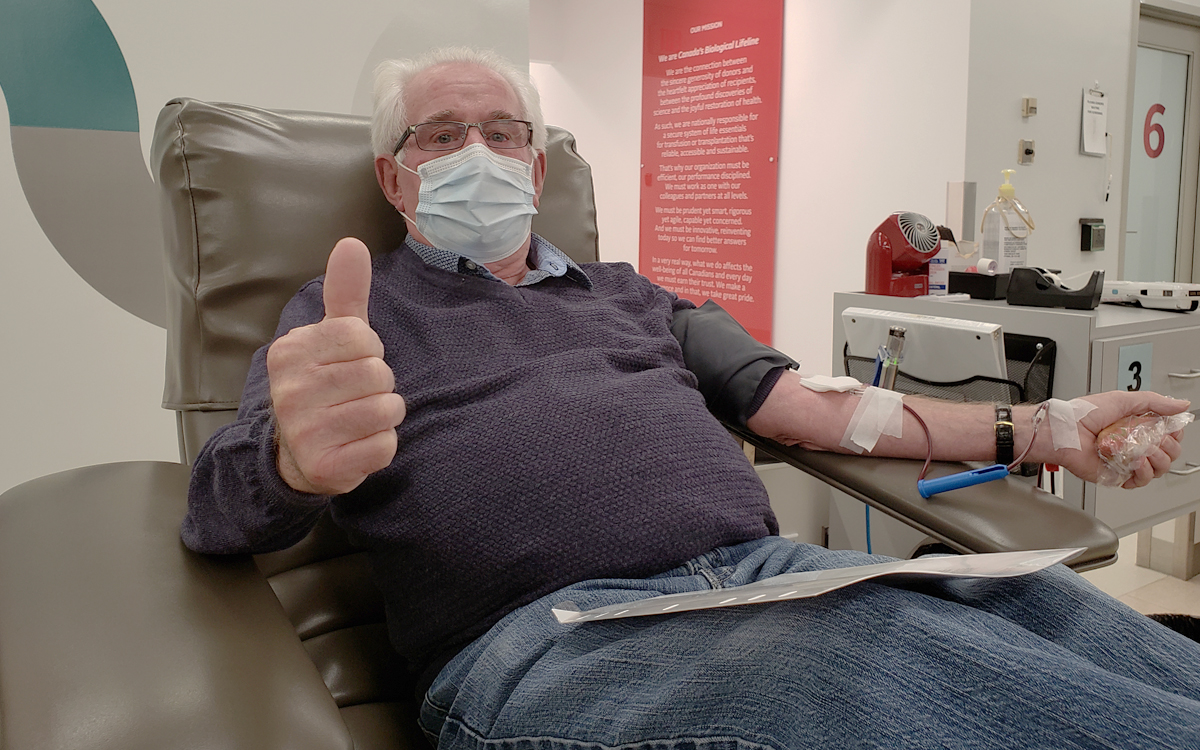 Ben Albers makes his fifth blood donation at the Edmonton donor centre on May 26, 2021.
Expressing gratitude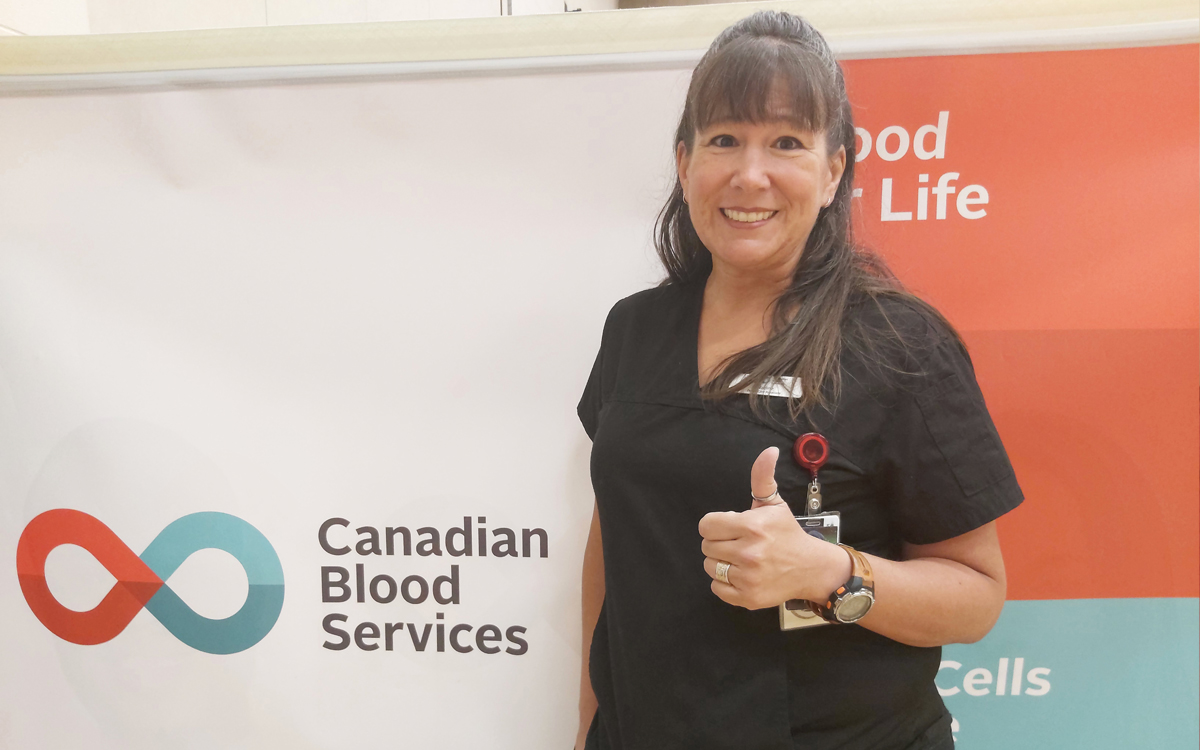 Nadine gives a thumbs up before starting work at donor centre in Kelowna, B.C. June 5, 2021
Nadine currently works as a donor care associate for Canadian Blood Services, as part of the mobile team in the B.C. interior.
One of the things she loves about her job is the opportunity to thank and educate donors.
"I take the opportunity, every chance I get, to thank donors, on behalf of my mom."
Nadine also tells donors about the real people they are helping.
"It feels like I have come full circle. I love the opportunity to educate donors and teach them things they wouldn't otherwise know."
She loves it when donors have questions about their blood donation or the process. She also enjoys thanking donors on behalf of her mom, who was so grateful for their gifts.
"I am grateful to be able to thank donors, on behalf of my family and other people who are so grateful for these gifts."
In celebration of National Blood Donor Week, Nadine Remington thanks donors for the gift of time with her mom.
Blood for Love
Nadine knows many people who have needed — and received — blood products and are grateful to donors who have continued to donate during the pandemic.
Last year, she created her own group through Canadian Blood Services' Partners For Life program.
"It's called 'Blood for Love,'" says Nadine. "We give blood in honour of people with a loved one who has needed blood or blood products. So far, my little team is crushing their goal.
"We've already collected half of what my target was for this year — 20 units."
What's next?
While Nadine is closing in on 30 years of donating blood, she intends to start donating plasma when the new plasma donation centre opens in Kelowna, B.C.
Securing Canada's supply of donated plasma
'Plasma products saved my daughter's life
This National Blood Donor Week, we celebrate the vital role that all donors play in helping us support patients. From the bottom of our hearts, we thank you for your many contributions. We hope you will continue to support Canada's Lifeline and spread the word about all ways to donate.